Turnkey Training Facilities at Slemon Park
---
Slemon Park has a range of proven scenario-based infrastructure available for one-time training courses, long term training and permanent training providers. Slemon Park's training facilities combine with on-site accommodations and food services to create an all-inclusive training destination.

Slemon Park's training facilities include:
---
The Summerside Airport is Slemon Park's private on-site airfield. The Summerside Airport is a full service fixed base operator (FBO) that does not host any commercial air traffic, making it readily available space to conduct aviation training and driver education exercises.
The advantages that make Summerside Airport a unique training asset include; a main runway measuring 8,000 by 200 ft., two decommissioned runways utilised for driver training, low landing and facility fees, quick turnaround time and quality, friendly service, 300+ VFR days per year, an Automated Weather Observing System, and extensive ramp service.
Types of training activity that benefit from utilizing the Summerside Airport include:
Fixed and rotary wing flight training
Search and rescue training
Airport security training
Driver training
---

---
Scenario-Based Training Village
Slemon Park's scenario based training village caters to a wide variety of scenario-based training endeavours. The village is a series of private paved roadways surrounded by greenspace and several shelters. It has a gated entrance, multiple access points, and is located on the Malpeque Bay.
Types of training activity that benefit from utilizing Slemon Park's bunker village include:
Bomb prevention training
Active shooter preparedness training
Vehicle takedown training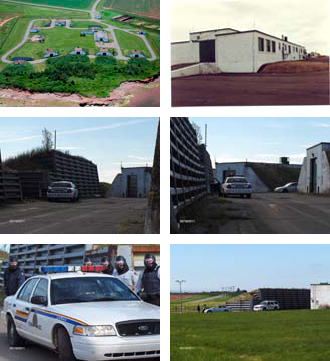 Slemon Park Training Centre
The Slemon Park Training Centre is a 7,000 sq. ft. facility complete with both a scenario annex and classroom space. It is designed to host various training courses, as well as associated meetings, lectures, briefings and debriefings.
The scenario annex is a two-level space with multiple hallways, stairways, access points and room configurations conducive to a variety of training events. It also includes medium and maximum simulation prison ranges/cell blocks.
The connected classroom space has three meeting rooms and two breakout rooms.
Types of training activity that benefit from utilizing the Slemon Park Training Centre include:
Active shooter preparedness training
Room clearance training
Lecture based courses
---


Slemon Park and Holland College's Atlantic Police Academy, located on-site, are training partners providing facility solutions. The training assets and services of the two entities combine to create a unique and complete training opportunity.
As mentioned above, Slemon Park offers the Summerside Airport, a scenario-based training village, the Slemon Park training centre, as well as accommodations and food services. As part of the Atlantic Police Academy partnership, we can also provide the following:
Outdoor firing range
Indoor firing range
Driving simulator
Use of force simulator
Indoor crime scene village
Fire training facilities
Physical fitness facilities
Experienced instructors
Our campus-style location means that everything is within walking distance.